Fishing sessions for 2015 and 2014 
To save some space in the title bar - and because I didn't fish that many times in 2014, I have combined the reports for 2015 and 2014 into one menu.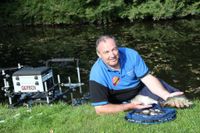 We had a nice days fishing on the Royal Military Canal before it was time for us to carry on to Dover and catch the ferry home.
We had some good fishing in 2015 and fished many different venues - and even managed a trip to England for a few days fishing with the RAF Old Lags and Bob Nudd.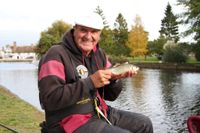 I took this photo of Bob with one of the Roach he caught when we fished on the Ouse in Godmanchester. We all had a great day.
The highlight of 2015 though has to be two days fishing with Bob Nudd MBE - what a gentleman and great angler as well.