On Tour - Holland 

When I go away for a few days in Holland, I'll write about where I got on here.
There are many venues in Holland that are full with fish, sometimes just during spawning season, sometimes all year round. 
Also, several venues have wooden platforms and places like the Voorne Canal have had their platforms renewed in 2021.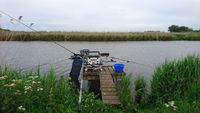 These platforms on the Voorne Canal have now been replaced with larger platforms. Comfortable and safe, these platforms make fishing much easier.
I hope you find some good venues in Holland to fish - and a few ideas you will find on this website. 
Good Luck!