Here you will find all my fishing reports for 2019 

 Fishing Reports with Einfachstippen 
2018 was a lean year for me and my fishing. I only managed to get out a dozen times due to work.
2019 has not started well with me having a persistant back injury. No matches for me and not much fishing this year.
 RAF Old Lags 
I fished with the Old Lags for a week in April and had a great time. We caught loads of fish on the pole on the canals around Alkmaar.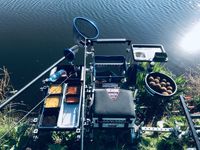 Ready for a day on the North Holland Canal. Today would bring me 145 small fish for 20 lb on the pole at 11.5 m.
 Einfachstippen On Tour 
The first week in October I'm On Tour with Einfachstippen. Just pleasure fishing for me.
 Stippevent 2019 
Last but not least is also the Stippevent for 2019. We will be holding the event on the 27th October. I think it should be at the beginning of October, when there is less chance of it being cold and getting frosts, but unfortunately, I've been told we can't have it any early as the water is fully booked.
Let's see how I get on in 2019 - if my back let's me fish. I hope you all have a good year both on and off the bank.
Tight Lines,
Steve